Marketing
Power Plush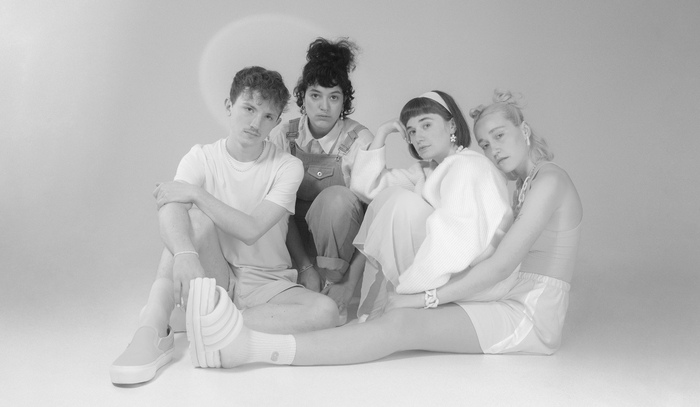 Power Plush
Synopsis
Power Plush have built themselves a universe - out of cotton wool, construction foam and modeling clay, cosy and colorful, far away from the grey of the Saxon hinterland and the crises of our time. This universe is meant to be a shelter for those hurt and crushed by definable and indefinable worries. A sanctuary that makes us forget personal struggles and world events, even if only for a moment, through its comfort. A safe space for all those who are alone with inextricable knots of emotion and need a shoulder to lean on.
Text
For Anja, Maria, Svenja and Nino, the first inhabitants of this universe, Power Plush has been fulfilling this purpose for several years. The band's structure is free of hierarchies: with guitarists Maria and Svenja and bassist Anja, three vocalists and writers share the front of the stage equally at gigs. Together with drummer Nino, they have developed a creative trademark that has long enriched the Indie pop scene and could change it for good. Power Plush combines influences from various decades of pop history, moving somewhere between Woodstock and college rock, flowery indie, post-punk and alternative from the future decades - driven by feather-light immediacy, yet of electricity and always with their hearts ahead.

Power Plush found each other in the Chemnitz music scene in Germany in 2019 and completed their current line-up in 2020. Their common centre of life has been considered an important progressive engine of the German cultural landscape and the Gallic village of the East not only since the band's founding - between Kosmos Chemnitz, Kraftklub, Bikini Kommando and Atomino, Power Plush benefit from a rich creative network. The fact that they are the first signing of the label Beton Klunker Tonträger, run by the trio Blond, is proof of this once again. Power Plush sparkled as a support act for big domestic acts Kraftklub, Beatstakes, Tocotronic, Leoniden and Blond, and were nominated in the category "Best Newcomer" at the 2022 VUT Indie Awards. After a tremendous festival run in the summer season of 2022, the band is finally releasing their first album: "Coping Fantasies".

The band's first release, the EP "Vomiting Emotions", released in autumn 2021, was already a call to live out sensibility. After this chaotic emotional breakup now follows the deep dive, Power Plush arrange and consolidate their themes and thoughts. "Coping Fantasies" reflects learning successes from the time of the EP's creation and recent stage experiences - instrument playing, writing ping-pong and melody development have become noticeably more experienced and self-confident. For the first time, the band consciously takes up space, has created a sound that seems a little less dreamy, but a lot more pointed, more dramatic, just bigger than it did a year and a half ago. A sound that breaks out more courageously and breathes more intensively, that belongs on larger stages and can actually be transferred instantaneously to the live situation. Mario Simic, who has worked with Mavi Phoenix, Rikas and Bruckner in the past, was once again responsible for the production and his input and fine-tuning contributed significantly to the warm and wavy atmosphere of this record.