Marketing
Shvpes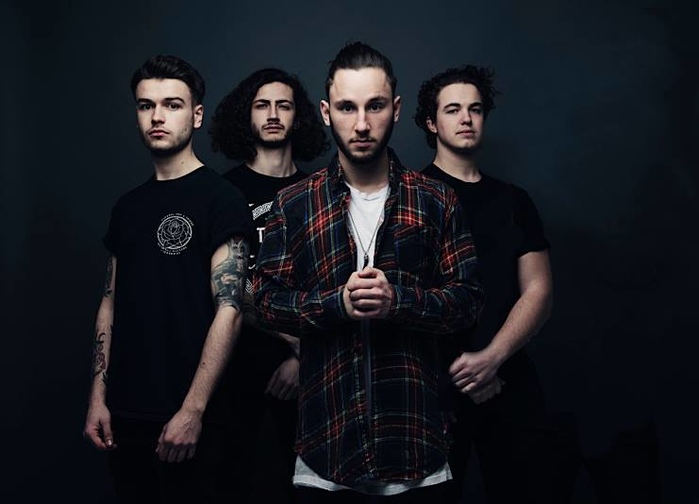 Shvpes
Synopsis
SHVPES released Pain. Joy. Ecstasy. Despair. // Live bei Rock im Park und Rock am Ring
Text
Ever gotten the feeling rock music has started to feel a bit… safe? Meet SHVPES: the Birmingham-founded sonic alchemists kicking down doors to drag heavy music out of its comfort zone and into the great beyond. Since emerging from the ashes of Cytota, the group have become leaders of the new guard – forging a chemical wedding of noise that defies all notion of genre and boundary. This year's debut – entitled Pain. Joy. Ecstasy. Despair. – looks set to challenge the very definition of heavy music in the modern age, eschewing nostalgic odes to yesteryear in favour of the untapped potential of the future. Amazingly, it all began by pure chance, and yet clearly some things were just meant to be…

"I first met Harry and the guys when I was touring with my brother's band doing merch," begins frontman Griffin Dickinson. "They didn't have a merch guy and we hung out loads, so I did theirs too. A few years later, I put something on Facebook like, 'Right – I'm ready to be in a band, let's make it happen!' And they had parted ways with their singer, so months later they sent me a message asking if I'd be interested. It came at the exact right time in my life, so I was like, 'Yeah, let's do it!'"
For the existing band members, what started out as a new chapter actually ended up becoming an entirely different book altogether.
"It had been really hard for us at points," admits drummer Harry Jennings. "We were getting rid of the image of the band and knew we had to move on. But no one was really jumping out to us as a new singer. By chance one of us had seen his Facebook post, so we sent over a track and within five minutes of receiving his vocals added in… we asked him to join the band. It's pretty mental, really."

Making the most of their brand new identity, SHVPES began to nurture the roots for their wildly experimental and hugely infectious wall of sound – unanimously agreeing this had to be a band with a difference. It was a painstaking process, the key to their success lying in carefully considered contrasts of heavy music against noises further afield – whether that be pop, electronica or hip-hop. But, as Harry explains, the challenge almost became the very driving force in their meticulous artistry… the final spark in that Molotov cocktail of influences.

"We really went out of our way to try new things," nods Harry. "Our producers were very interested in getting the best out of us, making us explore new avenues… there ended up being a huge amount of different elements and styles in there."
"I knew the guys were into hip-hop and stuff," adds Griffin, "but I really wanted to do more with that urban influence. The name SHVPES is a metaphor my mum used to use when I was a bit of a problem child going from one school to the next. She taught me about adapting shape to my environment – there are certain shapes people accept of you, whether that be a triangle or a circle or a rhomboid."

Just as there are different sides to every shape, the eleven tracks of Pain. Joy. Ecstasy. Despair. reflect all aspects of life – from our relationships with each other individually to breathing together as one singular collective organism. All of us intricately woven into the very fabric of society itself and by proxy – each other. Looking at the world around them, the band members were witnessing humanity at odds with itself – life slowly gravitating to an emotional rollercoaster of extremes.
"I love how every song speaks to me," enthuses Harry. "Like Two Minutes Of Hate is about how frustrating it is to be growing up in a generation that's lost. We don't know where we are gonna go, what the future holds – it's very bleak in that sense. Those songs put in a metaphors about what it's like being young in this world."

"It all stemmed from the idea of doing things yourself and not letting other people shape what you are about," says Griffin. "And because our sound was so eclectic, SHVPES really seemed to reflect that. It took a long time to mould an album like this and make it feel coherent – it's so easy to make a schizophrenic record with a little jazz here, funk there, then some metal blastbeats or whatever. This had to sound natural."

Whatever their secret is, it clearly works. SHVPES have been melting minds at festivals around the world, opening for the biggest and best rock bands today – from Bring Me The Horizon and Bullet For My Valentine to Crossfaith. Throw in a record deal with Search And Destroy/Spinefarm, heavy rotation on national radio such as Radio1, gushing reviews from the likes of Kerrang! and you've got all the makings for the next big thing…
"It's important for us to take the torch and carry it in a new direction," offers Harry, "rather than going down the same road… you'll never get people interested. Only a select few have managed to pull it off perfectly and turn the whole idea of heavy music right on its head. British rock/metal can and will stretch over to the mainstream. It's become an unstoppable force that, right now, we are lucky enough to be helping push along. I'd like to think we could play with bands like Biffy Clyro. They started out as a prog band, and yet somehow they've managed to cross the bridge too. I like bands that are breaking the mould."

For Griffin, it's also a case of forcing the world to take note. Look around the UK right now and you'll know the revolution demands your attention. SHVPES are leading the charge of bands on a mission to restore British rock to its former glories and beyond. Their voices will not go unheard.
"Growing up, other than Exit Ten and a few others, pretty much all the bands I listened to were American," notes Griffin. "Everything over here always felt a bit more downsized and DIY. They felt like the goliath heavyweights, the Roadrunner United sort of people, while the UK was more about cruising around playing pub shows. But there's one or two bands that have blown the glass ceiling off, it's been such a game-changer for British music. And, like them, we wanted to make sure that any point in the album could be recognised as us. Say Elton John, Elvis Presley, any good artist… you should be able to tell who it is within 10 seconds. In no way could this have ended up sounding like the thousands of other voices. This had to be identifiable."

One listen to Pain. Joy. Ecstasy. Despair. and you'll be inclined to agree: SHVPES are stars in the making. Don't take your eyes off them for a second.
Info
Booking Agent
The Agency Group /
Anna Bewers
Contact GSA:
Odyssey Music /
Patricia Markert
Listen to their latest album "Pain. Joy. Ecstasy. Despair."
Files